11116682
Gynecologic Oncology
MSU Health Care Gynecologic Oncology's mission is to provide evidence-based integrated gynecologic oncology care that exceeds national benchmarks for quality and safety, educate the next generation of gynecologic oncologists and scholars based on learner-centered principles, and advance medical knowledge through basic, clinical, and translational research to improve the lives of gynecologic patients.

We evaluate each patient as a unique individual and review all options with them to customize their treatment plan and optimize their care. We perform surgeries at McLaren Greater Lansing area allowing patients to stay close to home for both simple and complex operative procedures.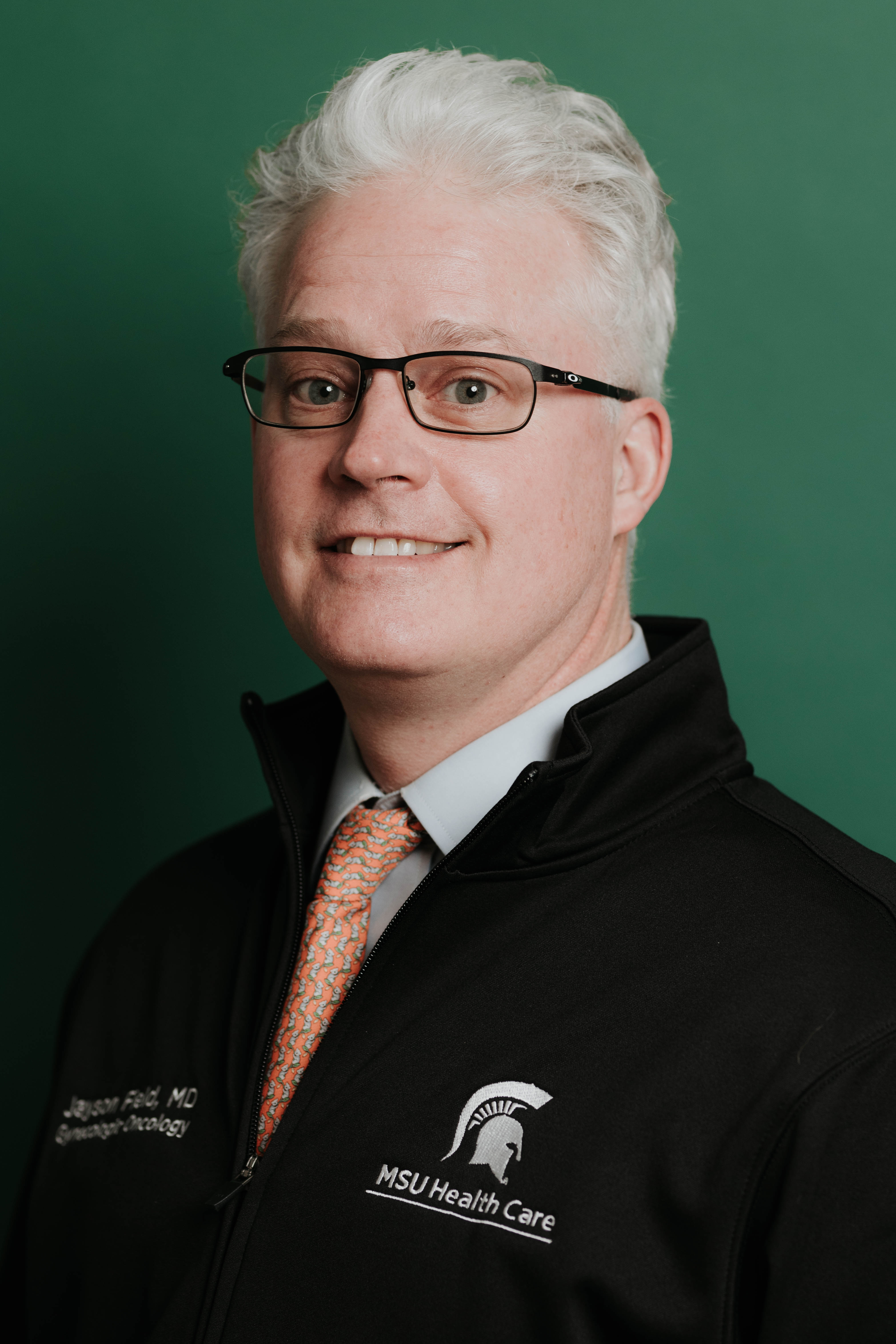 Jayson Field, MD, ABOG, FACS, is a nationally recognized, board-certified gynecologic oncologist who serves as director of the civision of gynecologic oncology in the Department of Obstetrics and Gynecology in Michigan State University's College of Human Medicine. As a MSU Health Care surgical oncologist, he provides care at Karmanos Cancer Institute at McLaren Greater Lansing. He brings more than 15 years of oncology experience to Mid-Michigan. Dr. Field specializes in minimally invasive surgery, open debulking of ovarian cancer, chemotherapy and hormone therapy treatments for women with gynecologic cancers, including ovarian and endometrial cancer.
Since 2012, he has served as principal investigator for Gynecologic Oncology Group/NRG Oncology Clinical Trials, which is responsible for improving and expanding cancer diagnosis and treatment. Early in his career as a resident and fellow, Dr. Field worked with patients on research trials. He has been involved in translational and clinical research in Human Papilloma Virus (HPV) and its impact on cervical dysplasia and cancer; PARP inhibitors and ovarian cancer; surgery for endometrial and cervical cancer; and chemotherapy for ovarian and endometrial cancer.
Dr. Field is now part of a multidisciplinary team of board-certified physicians from MSU Health Care, Karmanos Cancer Institute and McLaren Greater Lansing. He collaborates with oncology providers at these three organizations to offer world-class care and specialized services. Karmanos has one of the most robust gynecologic clinical trial portfolio with Phase I through Phase III studies, which are often not available at any other facility in the state of Michigan. These valuable trials give patients access to tomorrow's care today.
Comprehensive Care

Cervical cancer
Endometrial cancer
Gestational trophoblastic disease
Ovarian cancer

including fallopian tube and primary peritoneal cancers

Preinvasive dysplasia of the lower genital tract
Vulvar cancer

Treatment Options

Cervical sleeve placement for brachytherapy radiation for cervical cancer
Hysteroscopy D&C
LEEP or loop electrosurgical excision procedure for cervical dysplasia and early cervical cancer
Open hysterectomy with debulking for ovarian cancers
Radical partial and total vulvectomy with staging for vulvar cancer as well as sentinel nodes
Removal of the tubes and ovaries, either open or laparoscopically
Robotic hysterectomy
Staging for gynecologic cancer
Sentinel nodes in cervix, endometrial and vulvar cancer
Wide excision of the vulva for vulvar dysplasia
$practiceId
Yes
Yes
No
No
No
No
No
No
Provider
Karmanos Cancer Institute at McLaren Greater Lansing