11116682
HepatoPancreatoBiliary Surgery
Created in 2010, the Division of Hepatopancreatobiliary (HPB) Surgery through Michigan State University College of Human Medicine's Department of Surgery utilizes the latest technological advancements in the treatment of hepatobiliary diseases.
We care for patients with benign or malignant (cancerous) masses or tumors of the pancreas, liver, bile ducts and GI tract.
MSU Health Care Surgery provides physicians and patients peace of mind. Our successful outcomes are supported by our:
Advanced training
Case numbers performed
Postoperative care from our highly skilled team
Utilization of state-of-the-art technology

Davinci® robot
Endoscopic ultrasound
Laparoscopy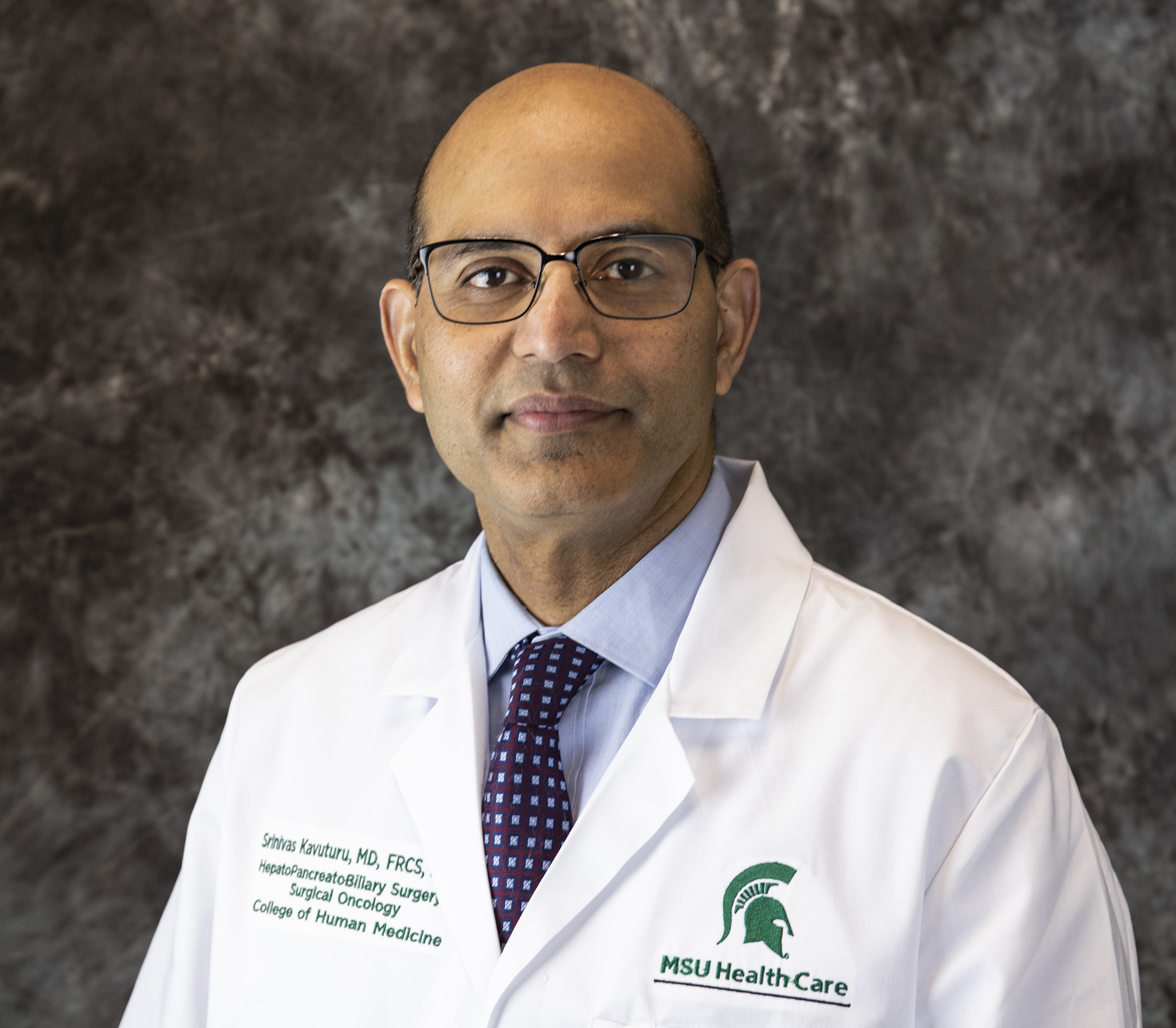 Meet the Surgical Oncologist
Srinivias Kavuturu, MD, FRCS, FACS
Srinivas Kavuturu MD, FRCS, is a triple fellowship-trained surgical oncologist, minimally-invasive hepatopancreatobiliary surgeon. He is an associate professor and chief of hepatopancreatobiliary surgery in the Department of Surgery at Michigan State University's College of Human Medicine.
Dr. Kavuturu is a graduate of Kurnool Medical College, University of Health Sciences in India. He went on to complete a fellowship in general surgery at the prestigious Royal College of Surgeons of Edinburgh (UK).
Upon moving to the US, Dr. Kavuturu completed his US residency in general surgery from the Bronx Lebanon Hospital Center at Albert Einstein School of Medicine in New York. He then completed a dual fellowship in advanced minimally invasive surgery and surgical oncology/hepatopancreatobiliary surgery at the Penn State's Milton S. Hershey Medical Center.
Dr. Kavuturu is board certified in surgery and his areas of special interest are esophagus and upper gastrointestinal cancer, inguinal and ventral hernia repair, laparoscopic and robotic surgeries, and minimally invasive liver and pancreas resections
Services & Patient Resources
General & HPB Surgical Treatment Options

Esophageal Cancer
Gallbladder Surgery
Gastrointestinal Surgery
General Surgery
Hepato-Pancreato-Biliary

Pancreatic Cancer
Whipples

Hernia Surgery
Laparoscopic Surgery
Liver Surgery
Minor Surgical Procedures
Muscle Biopsy
Robotic Surgery
Soft Tissue Cancer
Surgical Endoscopy
Trauma Services & Surgery
Upper Gastrointestinal Cancer
Hours
| | |
| --- | --- |
| Monday | 8:00am-5:00pm |
| Tuesday | 8:00am-5:00pm |
| Wednesday | 8:00am-5:00pm |
| Thursday | 8:00am-5:00pm |
| Friday | 8:00am-5:00pm |
| Saturday | Closed |
| Sunday | Closed |