MSU Health Care welcomes Toufic Jildeh, M.D., winner of prestigious sports medicine national award for ground-breaking, non-opioid research study
July 26, 2022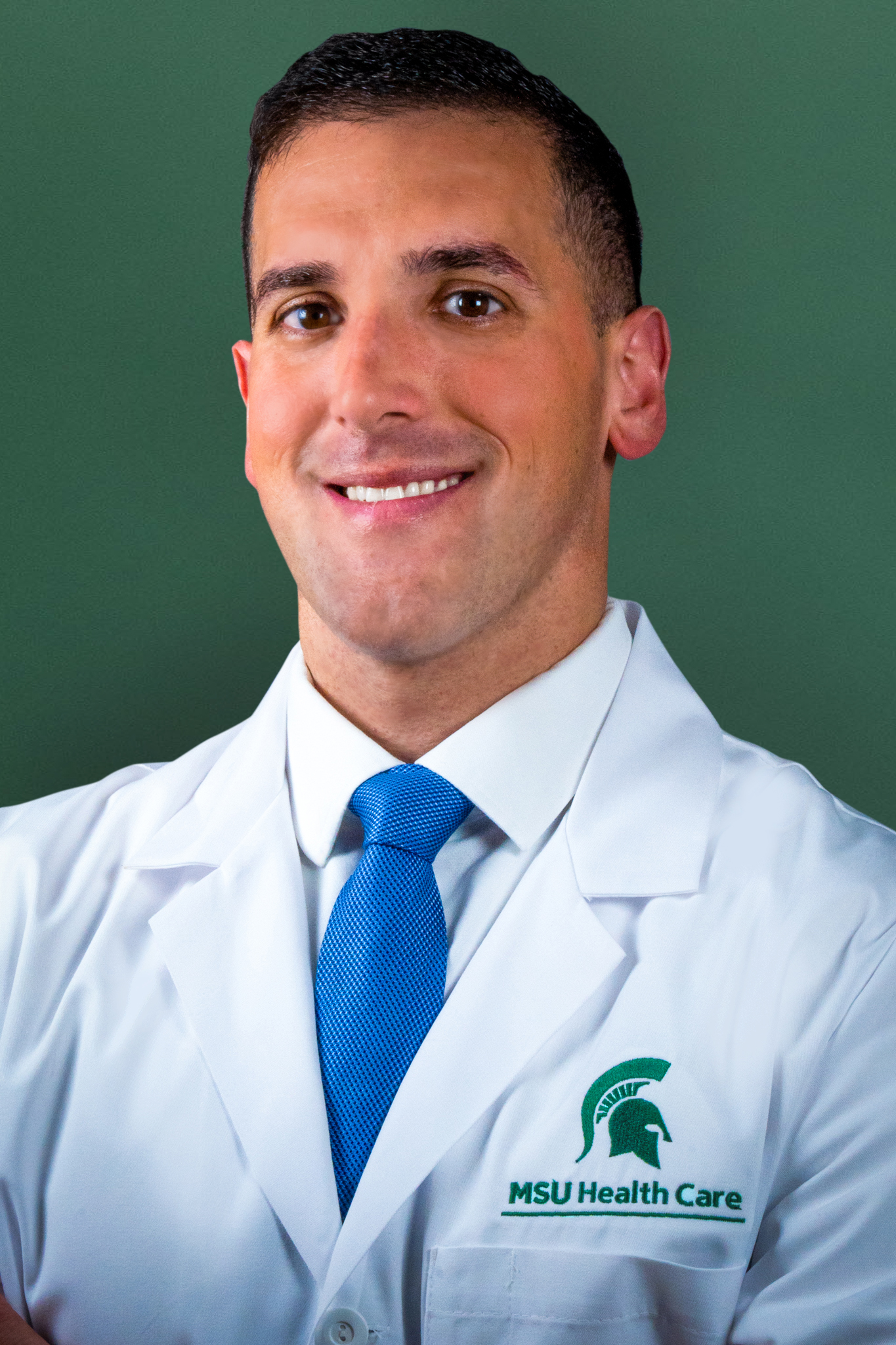 EAST LANSING, Mich. – MSU Health Care is proud to announce that one of the newest additions to our team of remarkable orthopedic surgeons, Dr. Toufic Jildeh, M.D., received the O'Donoghue Sports Injury Award for his non-opioid research study. The award was given by the American Orthopedic Society for Sports Medicine (AOSSM) at its50th Anniversary Annual Meeting in Colorado Springs last week.
The AOSSM Research Awards celebrate landmark, practice-changing accomplishments in Orthopaedic Sports Medicine. Traditionally reserved for mid to late-career physicians, Dr. Jildeh is one of the youngest recipients of this prestigious award in its history.
Dr. Jildeh, who will practice in the MSU Health Care Sports Medicine & Orthopedic Center beginning in mid-August, said the study successfully eliminated opioid use in patients following ACL reconstruction surgery, and was just as effective compared to patients who relied on opioid pain medication during recovery.
According to the Dept. of Health and Human Services, the U.S. is facing a national opioid crisis, with more than 130 people a day dying from opioid-related drug overdoses. Many opioid abusers suffer from acute or chronic pain and become addicted after being introduced to a regimen of legal, physician-prescribed medications, as is often the case following surgery for various orthopedic conditions.
"My hope is that we, as orthopedic surgeons, continue to work towards understanding and controlling pain after surgery," said Dr. Jildeh. "As the number of tools to treat pain continues to grow, the historic standard of uniform postoperative narcotic regimens to treat a diverse population of patients is no longer acceptable. I envision a future with personalized pain control plans for patients that reduce narcotic use, improve outcomes, help patients work through physical therapy easier, and ultimately return to sports quicker. While we have our work cut out for us, this non-opioid protocol is a giant step in the right direction."
The study, which was conducted in Detroit from February of 2019 to January of 2020, involved a prospective, randomized control trial. In other words, the surgeon did not know which patients were getting what medications, but people collecting the data did. The trials compared patients undergoing ACL reconstruction; one group received no opioids while the other group was given traditional opioid treatment. Those patients in the non-opioid group were given a carefully crafted multimodal assortment of medicine, which included muscle and nerve relaxants, anti-inflammatory medications, and Tylenol, both before and after surgery.
"We designed a myriad of medications that target the pain pathways at multiple points," Dr. Jildeh explained. "This non-opioid protocol was custom-tailored to the human healing experience as well as pathways for pain. That's what made our protocol really special. And the study showed the non-opioid protocol had equivalent or better results than the narcotic protocol."
While the study focused on ACL surgeries, the non-opioid protocol has also been validated in rotator cuff, shoulder labrum, meniscus, and arthroscopic hip impingement surgeries, and the results have been similar in each type of surgery.
"Thanks to Dr. Jildeh, we can offer non-opioid pain options for orthopedic patients after surgery," said Seth Ciabotti, MSU Health Care Chief Executive Officer. "Very few practices in the U.S. offer this unique approach to patients. We are grateful to Dr. Jildeh and congratulate him for this outstanding award, which underscores the efficacy of non-opioid treatment and eliminates the need for opioids and their addictive nature."
In addition to his role as Assistant Professor in the Dept. of Orthopedic Surgery, Dr. Jildeh will serve as Team Physician for Michigan State University Athletics. He is also currently a Team Physician for the U.S. Olympic Ski and Snowboard team.
Dr. Jildeh attended Wayne State University School of Medicine and completed his orthopedic surgical residency at Henry Ford Health System in Detroit. He is currently finishing an orthopedic sports medicine fellowship at the renowned Steadman Clinic/Steadman Philippon Research Institute in Vail, Colorado.
Born in East Lansing, Dr. Jildeh has fond memories of attending MSU football and basketball games while growing up. He obtained a B.S degree in Biochemistry and Molecular Biology through the Honors College at MSU.
"I'm very excited and honored to return to my home community," said Dr. Jildeh. "I hope to help advance the field of orthopedics and provide top-notch care and novel techniques to patients in my home state of Michigan."
--
Media Contact:
Andrea Mackey
(517) 353-1327