MSU Health Care surgeon recognized for his work on opioids-free pain management
March 1, 2023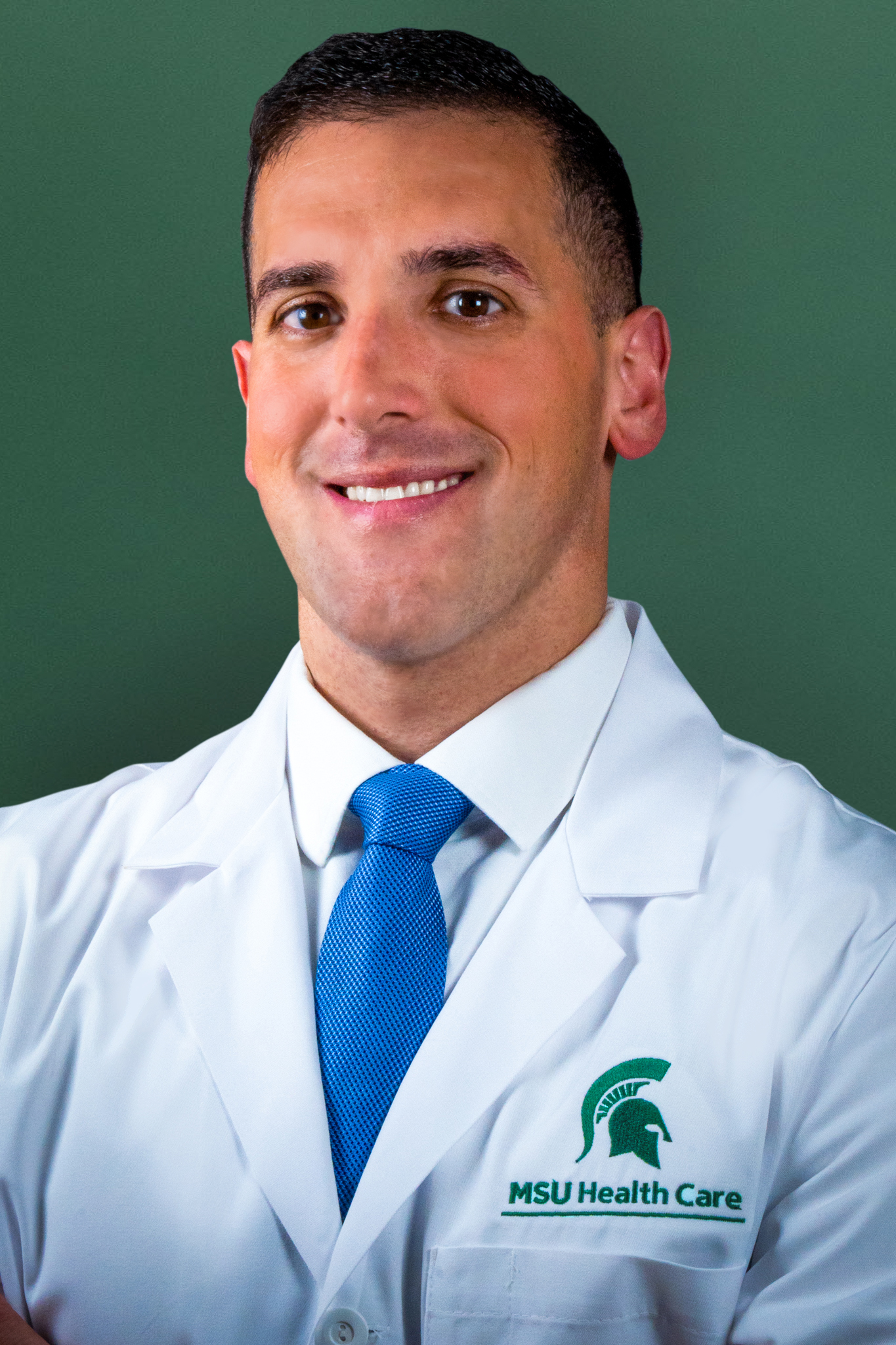 EAST LANSING, Mich. — MSU Health Care orthopedic surgeon Toufic Jildeh, M.D., an MSU Athletic Team physician, recently has received two top awards for his research on opioids-free pain control after rotator cuff surgery by the Arthroscopy Association of North America (AANA), an international professional organization committed to advancing the field of minimally invasive orthopedic surgery. 

Jildeh earned top honors in the categories of Excellence in Clinical Research and Excellence in Resident/Fellow Research for the study "Multimodal Nonopioid Pain Protocol Provides Better or Equivalent Pain Control Compared to Opioid Analgesia Following Arthroscopic Rotator Cuff Surgery: A Prospective Randomized Controlled Trial."  
AANA, in association with Arthroscopy, a respected journal for arthroscopic and related surgeries, hosts annual awards for published works in clinical research, basic science research, resident/fellow research and systematic reviews. 
According to the Centers for Disease Control and Prevention (CDC), an average of 44 people died each day from overdoses involving prescription opioids in 2020, totaling more than 16,000 deaths. Prescription opioids were involved in nearly 24% of all opioid overdose deaths in 2020, an increase of 16% from 2019. Opioid related deaths remain the leading cause of injury-related deaths in the United States. Non-fatal overdoses are prevalent as well with opioid use, with overdose occurrences being more likely to happen again for people who have already suffered from one. 
While prescribed opioids can be instrumental in pain management for patients in need of treatment, the downside of their use is hard to ignore even with controlled substance laws in place. 
For the prospective study, Jildeh and his team conducted a randomized controlled trial comparing his novel nonopioid pain management regimen to traditional narcotics in 40 patients undergoing primary rotator cuff repair. They found that patients who received nonopioid care noted satisfactory pain management with minimal side effects.  
Each year, millions of people visit their doctors with complaints of pain stemming from rotator cuff tears, with between 200,000 to 460,000 estimated surgical repairs. 
"Rotator cuff repair surgeries have been demonstrated to be among the most painful arthroscopic sports medicine procedures, despite efforts to mitigate the pain through multiple interventions," Dr. Jildeh stated. "We designed a custom-tailored non-narcotic protocol to target pain pathways at multiple points, in accordance to the human healing process. The goal was to eliminate pain at its source. Our studies found that patients using our protocol experienced equivalent, or better pain control than patients who used narcotics, with 100% patient satisfaction and minimal addictive burden"   
The assistant professor and MSU Athletics team physician is no stranger to being recognized for his work in proving the effectiveness of nonopioid pain management. He was also awarded the prestigious O'Donoghue Sports Injury Award at the American Orthopedic Society for Sports Medicine's (AOSSM) 50th anniversary meeting, celebrating landmark advancements in Orthopaedic Sports Medicine. Dr. Jildeh is one of the youngest recipients to receive this accolade. 
His efforts in nonopioid treatments and research is especially valuable to MSU Health Care's Sports Medicine practice, as it is one of the only medical centers in the United States to offer nonopioid alternatives to postoperative pain. Non-operative solutions to injuries are not always the best option, depending on the severity of the injury, and often, the best way to move forward is with surgery. Our alternative options to pain management aid us in giving the best care to our patients and allows them to get back to their lives without the side effects and risks associated with opioid intake. 
Media Contact:
Andrea Mackey
(517) 353-1327