MSU Health Care Garners Top Honors in 2023 Lansing's Official Community's Choice Awards
August 11, 2023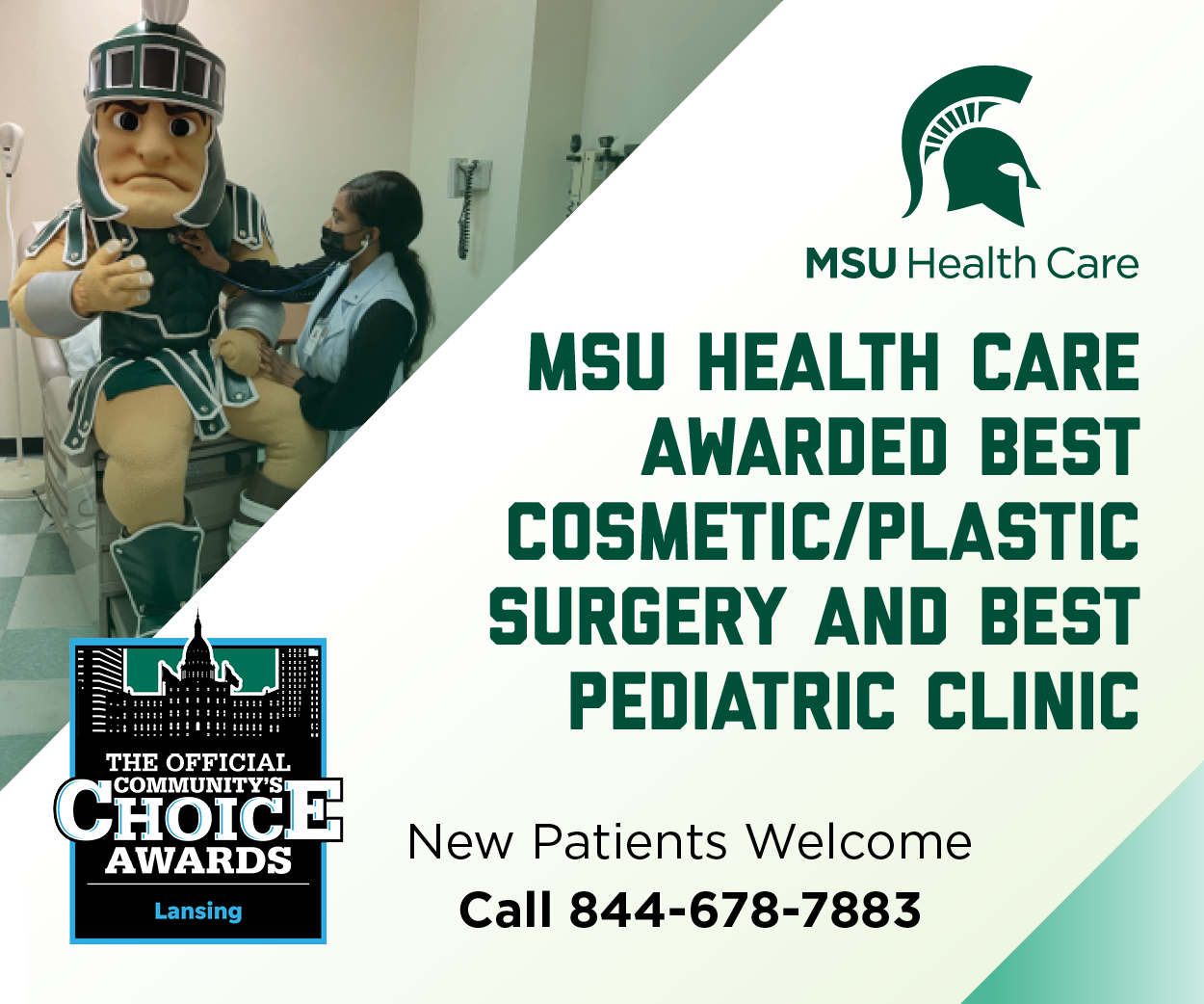 East Lansing, Mich. - Two MSU Health Care clinics have been recognized as best in class by the 2023 Lansing's Official Community's Choice Awards highlighting Greater Lansing area businesses.
MSU Health Care Pediatrics and MSU Health Care Plastic and Reconstructive Surgery have been respectively awarded Best Pediatric Clinic and Best Cosmetic/Plastic Surgery.
"These accolades are a testament to the dedication and commitment of our medical teams in providing quality patient care," said Michael Weiner, DO, MSM, MSIST, MSU Health Care chief medical officer. "We are proud of our providers and their contributions, and we remain resolute in our mission to improve the health of the communities we serve."
MSU Health Care combines the expertise of Michigan State University's three human health colleges with one mission — to improve the health of our Michigan communities. MSU Health Care is a network of organizations (some public and some private) that are operated or managed as part of an integrated health system. Over 600 MSU Health Care Spartans work to keep Michigan healthy through ongoing primary and preventive care within a health system which includes diagnostic and exemplary specialty care.
"We are honored to receive the title of Best Pediatric Clinic," said Yakov Sigal, MD, medical director for the Department of Pediatrics and Human Development within the College of Human Medicine. "We extend our heartfelt thanks to the Lansing community for their trust and support, and we look forward to continuing improve the lives of our patients."
For one MSU Health Care Pediatrics patient and their parent, their visit led to the proper diagnosis they had been seeking for some time. "Dr. Boote's expertise was remarkable, providing us with an accurate diagnosis after seeking help from multiple medical professionals at the ER and hospital for the same condition."
"This recognition is a testament to the commitment and care provided by our dedicated team at MSU Health Care Pediatrics," said Joel Greenberg, DO, chair of the Department of Pediatrics within the College of Osteopathic Medicine. "This accolade inspires us to continue our mission of delivering comprehensive and patient-centered care, as we remain steadfast in our dedication to the health, hope, and healing of the children in our community."
One MSU Health Care Plastic and Reconstructive Surgery patient has been able to regain control of their hand due to surgery. "Dr. Clarkson and Ashley [Day, PA-C] have been incredibly helpful in addressing my trigger thumb. I am grateful for their excellent care and expertise." 
"I am honored by the recognition bestowed upon MSU Health Care Surgery's Plastic and Reconstructive division," said James Clarkson, MD, FRCSC, FRCS,plast, MSC, director of the MSU Health Care Hand Management Unit. "We strive to increase access to the care by reducing risk and improving convenience by offering office based surgical procedures where appropriate, improving the patient experience using innovative approaches such as the use of Virtual Reality. We look forward to serving the community with unmatched excellence in the years to come." 
Let us take care of you, too. Visit healthcare.msu.edu for more information.
Media Contact:
Andrea Mackey
(517) 353-1327