MSU Health Care to Open New Gastroenterology Clinic
October 28, 2021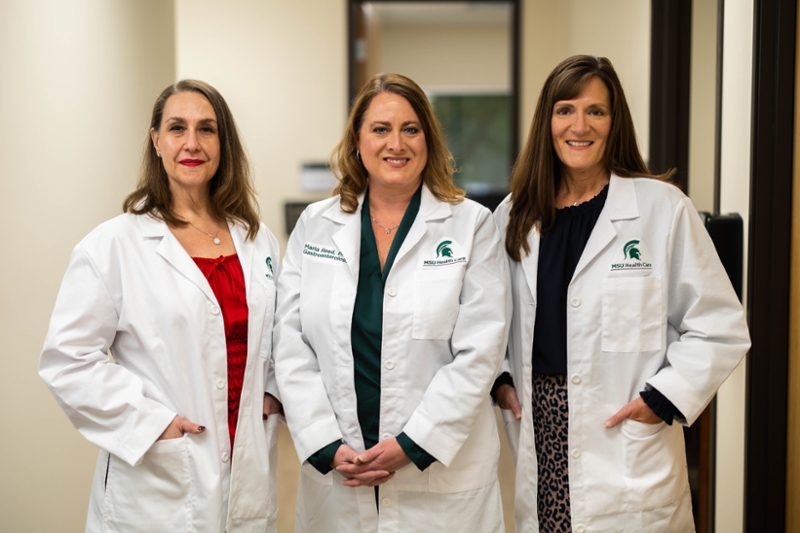 Oliveri-LePain, Reed, and Kerschen. Photo session followed COVID protocols. Subjects were unmasked briefly.

East Lansing, Mich. – MSU Health Care is excited to announce our new gastroenterology clinic opening November 1, 2021. This clinic will be located on the second floor of the Hannah Technology Research Center, 4660 South Hagadorn Road in Suite 230, adjacent to the MSU Health Care Urology clinic.
After practicing medicine together for over two decades, gastroenterologists, Dr. Catherine Kerschen, Dr. Lisa Oliveri-LePain, and physician assistant, Maria Reed, decided to form the MSU Health Care Gastroenterology clinic.
"We have similar practice philosophies and complement each other very well," says Dr. Kerschen. "We have been talking for years for ideal practice that would benefit patients and our careers."
MSU Health Care Gastroenterology will focus on general gastroenterology (GI), as well as, complex and/or multiple gastric conditions including biliary diseases, chronic liver disease, diseases of the colon, diseases of the esophagus, and diseases of the small intestine. In addition to diagnosis, management, and treatment of their patients, they consult in conjunction with hepatobiliary surgeons at MSU Health Care Surgery and gastrointestinal subspecialists at Henry Ford Health System clinics for gastroenterology (GI), hepatology, inflammatory bowel, and motility.
"MSU Health Care Gastroenterology is a patient-centric practice where everything involves the patient from start to finish, including managing, referring and outreach," says Dr. Lisa Oliveri-LePain.
To schedule an appointment, patients should contact the clinic at 517-353-3102. For more information, visit https://healthcare.msu.edu/services/specialty-care/gastroenterology.aspx
Location:
MSU Health Care Gastroenterology
4660 S. Hagadorn Rd. Suite 230
East Lansing, MI 48823
Phone: (517) 353-3102
About MSU Health Care
MSU Health Care is the fully integrated academic health center of Michigan State University, representing more than 600 faculty and affiliate providers. Our commitment to safe, high-quality patient care is realized through our comprehensive services for people of any age, education of the next generation of health care providers and medical research. MSU Health Care providers treat ongoing primary care as well as some of the rarest forms of cancer and neurological conditions along with advanced surgical, pharmaceutical, rehabilitation, therapy, and imaging services. With more than 100 affiliates located next door and as far as Ludington, Saginaw, Detroit, and Marquette, MSU Health Care is building hope and healing for Michigan.  Our clinical efforts support future advancements through academic and research initiatives at Michigan State University. https://healthcare.msu.edu/
###