Affiliate Clinics
Fostering innovation in health requires tenacity — and the right team members. We are honored to count these health organizations as part of our healing and learning ecosystem.
New relationships are always welcome. If you would like to talk about transforming health together, please contact us.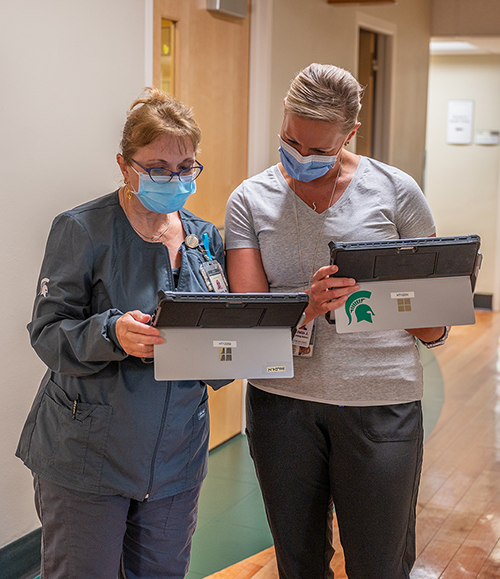 Below are the organizations and school districts where MSU Health Care currently provides affiliate care.
Advantage Health/St. Mary's Medical Group
Aria Nursing and Rehabilitation
Bronson Methodist Hospital
Building Trades National Medical Screening Program
Burham Hills Retirement Center II
Central Michigan Distric Health Department
Community Mental Health Authority of Clinton, Eaton and Ingham Counties
Community Mental Health Services of Livingston County
Compass Healthcare, PLLC 
DeGara APP, PLLC
Delta Schoolcraft ISD 
DeWitt High School
Dimondale Nursing Care Center, LLC
DLP Marquette Physician Practices, Inc.
East Beltline Imaging
East Lansing High School
Eaton County Family Court
Edward W. Sparrow Hospital Association
Emergency Physicians Medical Group, P.C.
Gratiot Integrated Health Network
Great Lakes Bay Health Centers
Great Lakes Center of Rheumatology West
Harbor Beach Community Hospital
Hayes Green Beach Memorial Hospital
Henry Ford Allegiance Occupational Health
Holt Public Schools
Holt Senior Care and Rehabilitation Center
Holy Cross Children's Services (St. Vincent Home)
Hope Network
Hurley Medical Center
Huron Valley House Peds, PLLC
Ingham County Health Department
Ingham County Medical Care Facility & Rehabilitation Services
Lansing Catholic Central High School
Lansing Christian School
Lansing Lugnuts
Lansing School District
McLaren Greater Lansing
McLaren Medical Group
Memorial Healthcare Center
Metro Health Hospital
Michigan State University Athletics 
Montcalm Care Network
Okemos High School
Playmakers
Potterville Public Schhols
Prevea Health
Rehab Without Walls, Inc.
Reliance Community Care Partners
Sacred Heart Hospital of the Hospital Sisters of the Third Order of St. Francis
Saint Mary's Health Care
Sparrow Ionia Hospital
Sparrow Michigan Athletic Club
Sparrow Specialty Hospital
Spectrum Health Hospitals
Spectrum Health Medical Group
Teck Coal Limited
The Fertility Clinic
The Willows at Okemos
The Willows of East Lansing
Traverse Health Clinic
US Olympic Figure Skating Team
US Olympic Judo Team
US Olympic Ski & Snowboarding Team
UP Health System Marquette
Upper Great Lakes Family Health Center
VOANS Senior Community Care of Michigan
Waverly High School
West Michigan Community Mental Health System
Western Michigan University Homer Stryker M.D. School of Medicine