11116682
Hand Surgery
Created in 2010, the Hand Management Unit (HMU) through Michigan State University College of Human Medicine's Department of Surgery utilizes the latest technological advancements in the treatment of hand and micro-vascular surgery including Virtual Reality. If the patient chooses, Dr. Clarkson and Dr. Bray offer in-office hand procedures and other local anesthetic procedures using virtual reality in addition to traditional surgical interventions. We have proven that this novel, first in the nation approach improves anxiety and even reduces injection pain for our more needle-phobic patients. It's the most efficient and safest way to deliver this type of surgery without the need for major anesthesia. Patients can eat normally and take their usual medications on the day of surgery. We find it particularly useful for our more elderly patients, but children and adults alike have benefited from this technology.
MSU Health Care Surgery provides patients peace of mind through our successful outcomes which are supported by our:
Advanced training
Case numbers performed
Postoperative care from our highly skilled team
Meet the Surgeon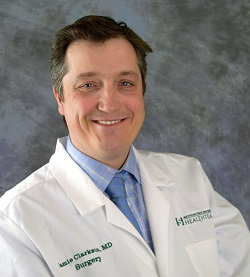 James HW Clarkson, MD, FRCSC, FRCS.plas, MSC
Dr. Clarkson is a fellowship-trained, board-certified plastic and reconstructive surgeon, specializing in hand and micro-vascular surgery. He is an assistant professor and chief of hand management unit in the Department of Surgery at Michigan State University's College of Human Medicine.
Dr. Clarkson received his medical degree in 1995 from the Royal London Hospital of England. He completed general & plastic surgery trainings in England and Scotland from 1995-2008. In 2008–2010, he perfected his training through a hand and micro-vascular surgery fellowship from Keinert Institute in Louisville, Kentucky. He is a board-certified plastic & reconstructive surgeon from the Royal College of Physicians and Surgeons of Canada.
In 2010, Dr. Clarkson joined MSU where he has established the Department of Surgery Hand Management Unit providing specialized treatments of all hand and wrist conditions. His desire to provide exceptional patient care and total comfort has led to the expansion into wide awake surgery.
His desire to provide exceptional patient care with better access and greater safety has led to an increase in the range of surgeries that may be offered in the office, assisted where needed by Virtual Reality distraction. His research studies include Virtual Reality technologies for enhanced patient care and comfort. Other research includes the development with MSU Engineering of devices that help to standardize patient outcome assessment. At Sparrow Hospital, Dr. Clarkson provides hand and facial trauma care, hand and wrist surgery, and wound reconstructive services. He is the Medical Director of the Sparrow Wound Clinic.
Services & Patient Resources
Hours
| | |
| --- | --- |
| Monday | 8:00am-5:00pm |
| Tuesday | 8:00am-5:00pm |
| Wednesday | 8:00am-5:00pm |
| Thursday | 8:00am-5:00pm |
| Friday | 8:00am-5:00pm |
| Saturday | Closed |
| Sunday | Closed |