11116682
MSU Breast Center
The MSU Breast Center first opened as the Comprehensive Breast Health Clinic in January of 1992. The center is a division of the Department of Surgery. The mission of our center is to provide comprehensive, specialized breast health care to women and men in a sensitive and personalized manner. Our providers utilize state-of-the art skills and techniques to provide a wide range of services such as genetic counseling and testing, breast cancer high risk assessment, and breast surgery.
MSU Health Care Surgery provides patients peace of mind through our successful outcomes which are supported by our:
Fellowship training
Board-Certified General and Plastic & Reconstrutive Surgeons
Number of cases performed
Comprehensive care from our highly skilled team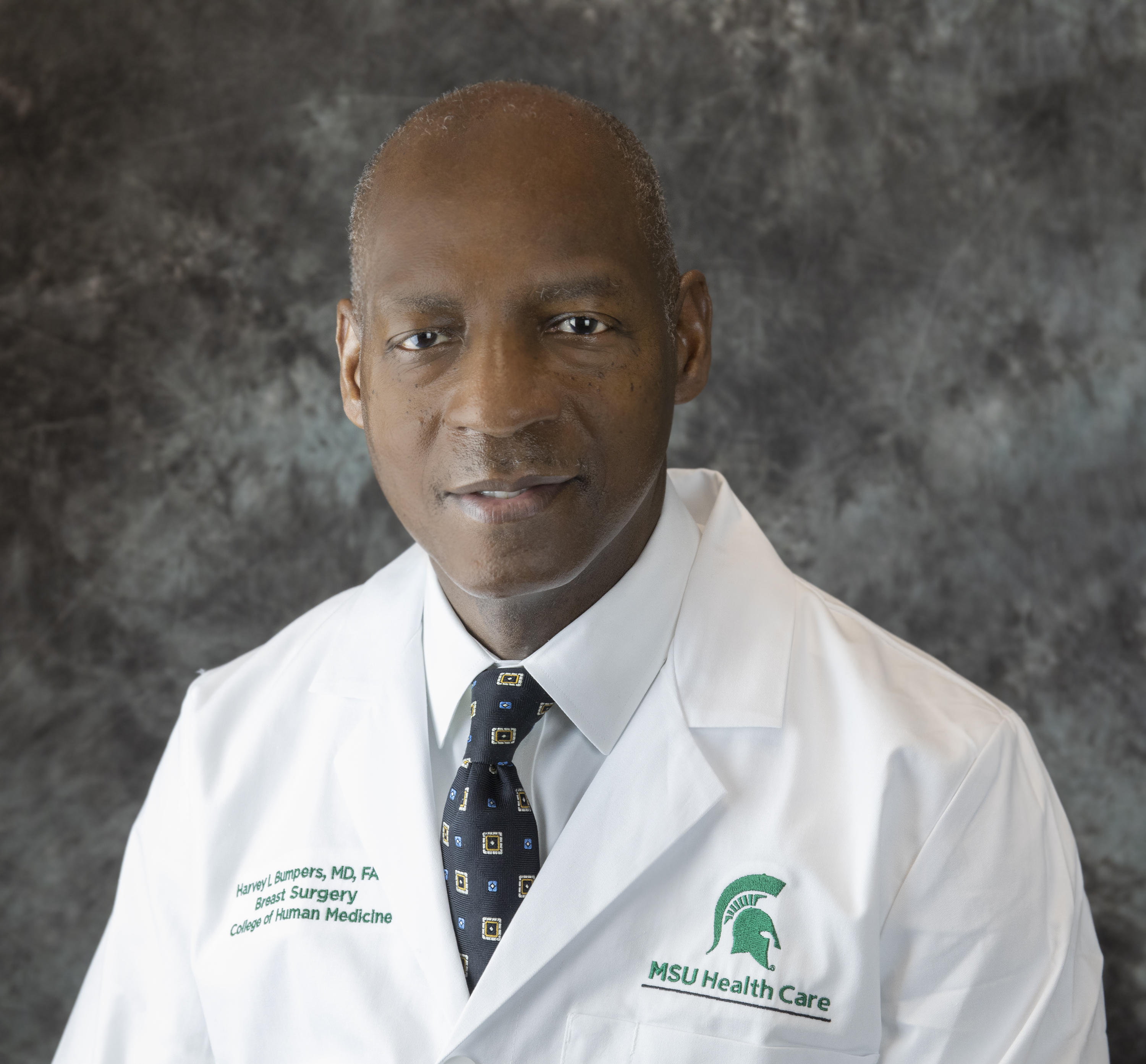 Meet the Surgical Oncologist
Harvey Bumpers, MD, FACS
Dr. Bumpers is a fellowship-trained, board-certified surgical oncologist, specializing in breast surgery. He is a professor and chief of the MSU Breast Center in the Department of Surgery at Michigan State University's College of Human Medicine.
Dr. Bumpers received his medical degree from the University of Rochester School of Medicine & Dentistry. He completed general surgery training at State University of New York at Stony Brook School of Medicine. He then went on to complete a surgical oncology (basic research) fellowship at SUNY Stony Brook and a surgical oncology (clinical) fellowship at Roswell Park Cancer Institute in Buffalo, NY. He is a board-certified  in general surgery from the American Board of Surgery.
Dr. Bumpers has a dedication to community outreach regarding breast cancer and has done workshops for the community every year since 1988.
For the past 25 years, he has also been committed to laboratory research on breast and colon cancers. Dr.
Bumpers also is a reviewer for multiple cancer journals and avidly publishes on breast cancer diagnosis,
treatments and biological research. He serves on panels and performs grant reviews at the National Cancer Institute in his role as a national health disparities expert related to breast cancer.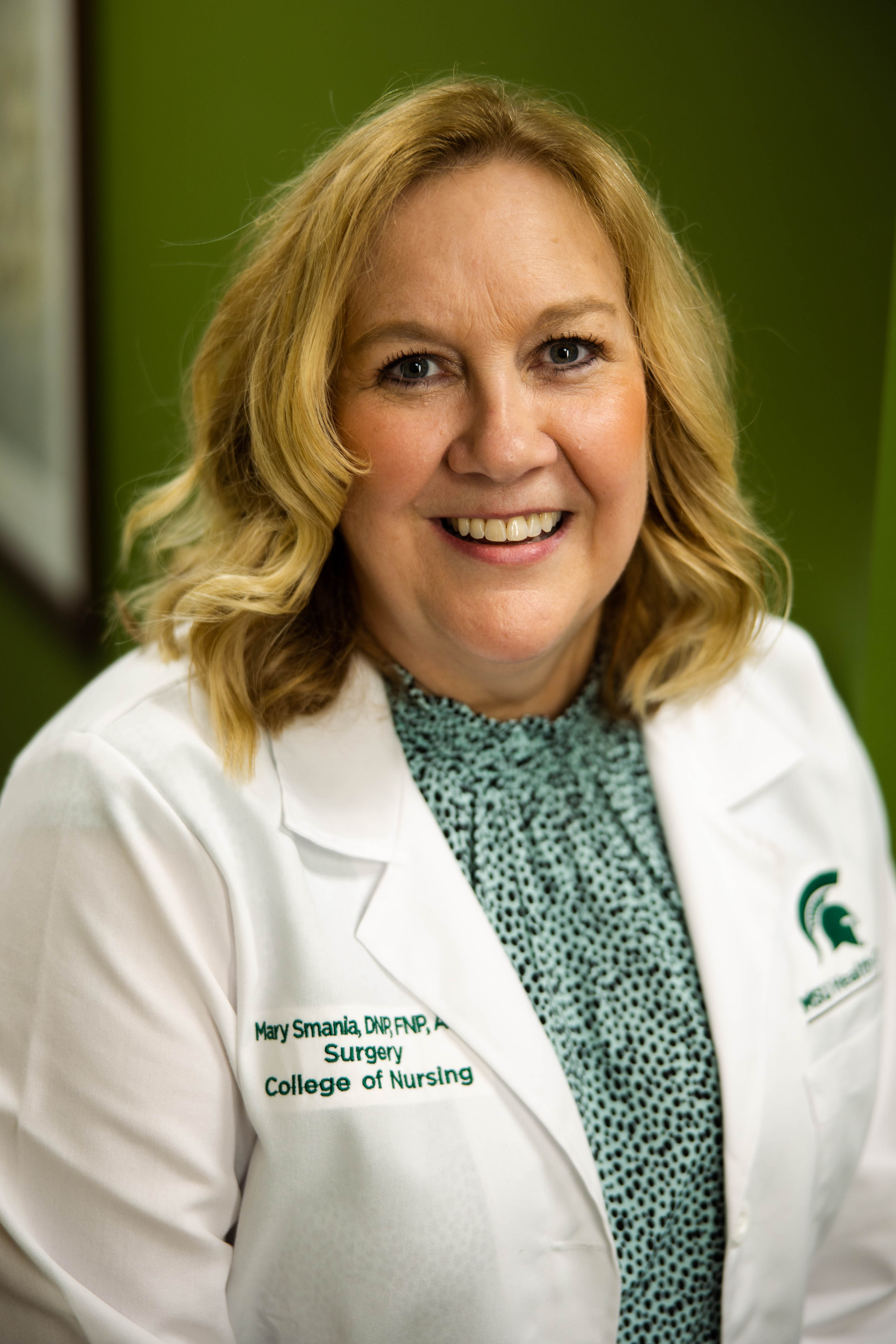 Meet the Genetics & High-Risk Assessment Expert
Mary Smania, DNP, FNP-BC, AGN-BC

Dr. Smania is an Assistant Professor in the Michigan State University's College of Human Medicine. In addition, she is a certified nurse practitioner and certified advanced genetics nurse at MSU Breast Center.
Dr. Smania received her masters in science in nursing from Michigan State University. She then earned her doctorate of nursing practice from University of Iowa.
Dr. Smania has over 20 years of experience in women's health and in all aspects of breast health including breast cancer, genetic testing, evaluating benign breast disease and women at risk. She is nationally recognized and presents in various forums including community groups, nursing and physician
audiences. She was selected as Nurse Practitioner of the Year in 2015, received the Community Service Award from the Lansing State Journal Salute to Nurses in 2018, and received the Oncology Nursing Society Excellence in Cancer Prevention and Early Detection Award in 2019. She has various publications related to breast health. She is currently the Program Director for a Susan G. Komen® grant and has received nine previous Komen grants providing breast services to the underserved.
Services & Patient Resources
Breast Outpatient Post-Procedure Instructions

Surgery | Breast Outpatient Post-Procedure Instructions



PATHOLOGY RESULTS

The pathology results from your surgery will take 3 – 5 days to be completed. It may be longer if your surgery was done towards the end of the week. Our office will call you when the results are back, or your surgeon will review the results at your first post-operative visit.

 

INCISION CARE

You may have an incision where the procedure was done.
The gauze dressing can be removed 24 hours after your procedure. If the gauze bandage gets wet or saturated, replace it with a clean, dry bandage.
There are dissolvable stitches under the skin and white tapes called steri strips on the surface of the skin. Leave steri strips in place, they will fall off on their own over time. There are no sutures at the skin level that need to be removed.
Some bruising and mild swelling around the incision is expected.
The procedure area may feel more dense/harder initially or you may feel a lump. This is expected and usually resolves over time.
Do not apply lotion, ointment, or cream to your incision.
You can begin wearing a bra once it feels comfortable for you.
If you have discomfort or pain, you may use Ibuprofen or Tylenol 1 – 2 tablets every four hours as needed.
You may use an ice pack over the incision. Never put ice or an ice pack directly on your skin, wrap in a towel. Do not use the ice pack for more than 15 minutes at a time.
Some pain medications may cause constipation. You may use a stool softener or laxative if needed.

 

ACTIVITY RESTRICTIONS

You may return to normal activities (including driving) unless otherwise instructed.
Move your arm on the procedure side so it does not become stiff but do not do any heavy lifting or strenuous exercise for a couple of days.

 

DIET RESTRICTIONS

Return to your normal diet.
Drink at least 6 to 8 glasses of water or other nonalcoholic fluids a day, unless directed otherwise.

 

SHOWER/BATHING RESTRICTIONS

You may shower after the dressing is removed. Water can run over the incision but do not submerge the incision in a bathtub or hot tub for one week. Pat the incision dry. A panty liner can be used as a dressing if you have a small amount of a watery red drainage.

 

WHEN TO CALL YOUR SURGEON

Fever of 100.4° F (38°C) or higher, or chills
Fluid leaking from the incision that smells bad
Pain not relieved by Tylenol or ibuprofen
Bleeding, warmth, redness, or hard swelling around the incision

_______________________________________________________________________________

 

If you have any questions or concerns following your in-office breast procedure, please contact us at:
(517) 267-2460
(888) 451-2909 | toll free

 

Harvey Bumpers, MD, FACS
MSU Health Care Surgery
4660 S. Hagadorn Rd Suite 600
East Lansing, MI, 48823
517.267.2460



Lumpectomy Post-Operative Instructions

Surgery | Lumpectomy Post-Operative Instructions


FOLLOW UP APPOINTMENT

Follow-up with your surgeon in 1-2 weeks for your post-operative appointment, or as previously scheduled.

 

PATHOLOGY RESULTS

The pathology results from your surgery will take 3 – 5 days to be completed. It may be longer if your surgery was done towards the end of the week. Our office will call you when the results are back, or your surgeon will review the results at your first post-operative visit.

 

INCISION CARE

You will have an incision for the lumpectomy and may have a second incision if you have a lymph node biopsy.
The gauze dressing can be removed three days after your surgery.
If the gauze bandage gets wet or saturated, replace it with a clean, dry bandage.
There are dissolvable stitches under the skin and white tapes called steri strips on the surface of the skin. Let them fall off on their own. There are no sutures at the skin level that need to be removed.
The surgical area may feel more dense/harder initially or you may feel a lump. This is expected after surgery and usually resolves over time. The stitches used to close the tissue under the skin are in multiple layers and can cause the fullness.
Some bruising and mild swelling around the incision is expected.
Do not apply lotion, ointment, or cream to your incision.
Wear your elastic corset for at least three days after surgery. You can begin wearing a bra once it feels comfortable for you.
Take pain medicines as directed. Do not wait until the pain gets bad before taking them. Do not drink alcohol while on pain medicines.
Your surgeon uses a long-acting local anesthetic during surgery. Some women find they only need Tylenol or ibuprofen for discomfort. Some pain medications may cause constipation. You may use a stool softener or laxative if needed.
You may use an ice pack over the incision. Never put ice or an ice pack directly on your skin, wrap the ice in a towel. Do not use the ice pack for more than 15 minutes at a time.

 

ACTIVITY RESTRICTIONS

Feeling tired for a few days after surgery is expected.
After the procedure, take it easy for the rest of the day. Someone will need to drive you home from the hospital.
Do not use machinery or power tools, drink alcohol, or make any major decisions for at least the first 24 hours.
You may return to normal activities (including driving) after 24 hours if you are no longer using prescription pain medication.
Move your arm on the surgical side so it does not become stiff but do not do any heavy lifting or strenuous exercise for two weeks after surgery.

 

DIET RESTRICTIONS

Start with liquids and light, easy-to-digest foods, such as bananas and dry toast. As you feel up to it, return to your normal diet.
Drink at least 6 to 8 glasses of water or other nonalcoholic fluids a day, unless directed otherwise.

 

SHOWER/BATHING RESTRICTIONS

You may shower after the dressing is removed. Water can run over the incision but do not submerge the incision in a bathtub or hot tub. Pat the incision dry. A panty liner can be used as a dressing if you have a small amount of a watery red drainage.

 

WHEN TO CALL YOUR SURGEON

Vomiting or nausea that does not go away
Fever of 100.4° F (38°C) or higher, or chills
Fluid leaking from the incision that smells bad
Pain not relieved by pain medicines
Bleeding, warmth, redness, or hard swelling around the incision
Edges of incision opening up
Chest pain or shortness of breath
Trouble urinating, blood in urine, pain when urinating, or urine that's cloudy or smells bad

 ____________________________________________________________________________

If you have any questions or concerns following your lumpectomy, please contact us at:
(517) 267-2460
(888) 451-2909 | toll free


Harvey Bumpers, MD, FACS
MSU Health Care Surgery
4660 S. Hagadorn Rd Suite 600
East Lansing, MI, 48823
517.267.2460


Mastectomy Post-Operative Instructions

Surgery | Mastectomy Post-Operative Instructions



FOLLOW UP APPOINTMENT

Follow-up with your surgeon in 1-2 weeks for your post-operative appointment, or as previously scheduled.

 

PATHOLOGY RESULTS

The pathology results from your surgery will take 3 – 5 days to be completed. It may be longer if your surgery was done towards the end of the week. Our office will call you when the results are back, or your surgeon will review the results at your first post-operative visit.

 

INCISION CARE

The gauze dressing can be removed three (3) days after your surgery.
If the gauze bandage gets wet or saturated, replace it with a clean, dry bandage.
You will have an incision in the side of breast removal in the chest. There are dissolvable stitches under the skin and white tapes called steri strips on the surface of the skin. Let them fall off on their own. There are no sutures at the skin level that need to be removed. Except the ones holding drains in place.
The incision may feel more dense/harder initially or you may feel a lump. This is expected after surgery and usually resolves over time. The stitches used to close the tissue under the skin are in multiple layers and can cause the fullness. They dissolve on their own.
Some bruising and swelling around the incision are expected.
Do not apply lotion, ointment, or cream to your incision.
There will be one-two (1-2) drains in place. Drains should be emptied at least twice daily. A dressing must be kept around the drains at all times. Drains cannot get wet. Do not shower while the drains are in.
Wear your elastic corset for at least three (3) days after surgery. You can begin wearing a bra once it feels comfortable for you. Dr. Bumpers will give you a knitted knocker (handmade breast prosthesis) to put in your bra. Once you have healed, he will write a prescription for a prosthesis and bras.
You may use an ice pack over the incision. Never put ice or an ice pack directly on your skin, wrap in a towel. Do not use the ice pack for more than fifteen (15) minutes at a time. A small pillow positioned in your armpit may also help with the discomfort.
Your surgeon uses a long-acting local anesthetic during surgery which helps with postoperative pain. Take pain medicine as directed. Do not wait until the pain gets bad before taking them.
Do not drink alcohol while on pain medicines. Use the prescription pain medication as prescribed. Once you start feeling better, you can use Tylenol or ibuprofen for discomfort. Some pain medications may cause constipation. You may use a stool softener or laxative if needed.

 

DRAIN CARE

A Jackson-Pratt drain provides a constant low suction to pull excess fluid from your surgical site for faster healing and prevent buildup of fluid under the incision. You will have two drains per breast.
Initially the fluid will be red, then turn a watery red and a clear yellow.
Always wash your hand with soap and water before and after changing the dressing or emptying the bulb.
Changing the Dressing:

If drain dressing is dry and intact for first three (3) days after surgery, you do not need to change. Change the dressing only if it is wet.
Remove the old dressing. Unpin the drain from your clothing.
Clean the skin around the drain tube site with betadine-soaked cotton tipped applicator (or gauze) in circular motion. Be careful not to tug on sutures.
Check the skin around the drain tube site for redness, tenderness, swelling, warmth, unusual drainage, and leakage. Wash Hands.
Place clean, dry gauze over the drain tube insertion site and secure it with tape.

Emptying the Bulb:

Open the stopper slowly (away from your face). Empty the contents into the measuring container at least twice daily or when drain is about half full.
Squeeze the bulb while it is uncapped. While squeezing, recap the bulb to create suction. It should look flat or deflated when suction is working.
Pin the bulb drain back to your clothing by the plastic tag to avoid accidental pulling. Discard the drainage into the toilet. Rinse and wash the measuring container with soap and water.
Record the amount and note the color and type of the drainage. The drain will be removed in the office. The suture is cut, and the drainage tube is gently pulled out. A gauze dressing is applied, and the opening closes in a few days.

 

ACTIVITY RESTRICTIONS

You will stay in the hospital overnight after surgery.
Avoid heavy lifting and vigorous exercise until stitches are removed.
Avoid using arms for repetitive arm motion (Ex. Vacuuming)
Frequent short walks are helpful.
You cannot drive or do housework until the drain is out. You may restart driving when you are no longer on prescription pain medication, you feel safe operating a car, and have spoken with surgeon.
Move your arm on the surgical side so it does not become stiff but do not do any heavy lifting or strenuous exercise. Use arm only for your normal activities of daily living.
You will be given exercises to regain movement and flexibility. You may be referred to physical therapy for additional rehabilitation if it is needed.
If you have an axillary dissection, avoid having your blood pressure or blood drawn in affected arm.
Full recovery takes six to eight (6–8) weeks. Most patients return to work within three to six (3–6) weeks.
You will need time to adjust to losing your breast(s). If needed, ask your surgeon about local support groups, counselors and social workers that can help.

 

DIET RESTRICTIONS

Start with liquids and light, easy-to-digest foods, such as bananas and dry toast. As you feel up to it, return to your normal diet.
Drink at least 6 to 8 glasses of water or other nonalcoholic fluids a day, unless directed otherwise.

 

SHOWER/BATHING RESTRICTIONS

You may shower 24 hours after the last drainage tube is removed. Water can run over the incision but do not submerge the incision in a bathtub or hot tub. Pat the incision dry. A panty liner can be used as a dressing if you have a small amount of a watery red drainage.

 

WHEN TO CALL YOUR SURGEON

Vomiting or nausea that does not go away
Fever of 100.4° F (38°C) or higher, or chills
Fluid leaking from the incision that smells bad
Pain not relieved by pain medicines
Drainage tube is not draining and there is swelling around the insertion site
Bleeding, warmth, redness, or hard swelling around the incision or drainage tube
Edges of the incision opening up
Swelling in your arm or hand on the surgery side
Chest pain or shortness of breath
Trouble urinating, blood in urine, pain when urinating, or urine that's cloudy or smells bad

_______________________________________________________________________________

If you have any questions or concerns following your mastectomy, please contact us at:
(517) 267-2460
(888) 451-2909 | toll free


Harvey Bumpers, MD, FACS
MSU Health Care Surgery
4660 S. Hagadorn Rd Suite 600
East Lansing, MI, 48823
517.267.2460
Hours
| | |
| --- | --- |
| Monday | 8:00am-5:00pm |
| Tuesday | 8:00am-5:00pm |
| Wednesday | 8:00am-5:00pm |
| Thursday | 8:00am-5:00pm |
| Friday | 8:00am-5:00pm |
| Saturday | Closed |
| Sunday | Closed |