UPDATE: Power restored MSU Health Care services at 4660 S. Hagadorn resume
December 13, 2021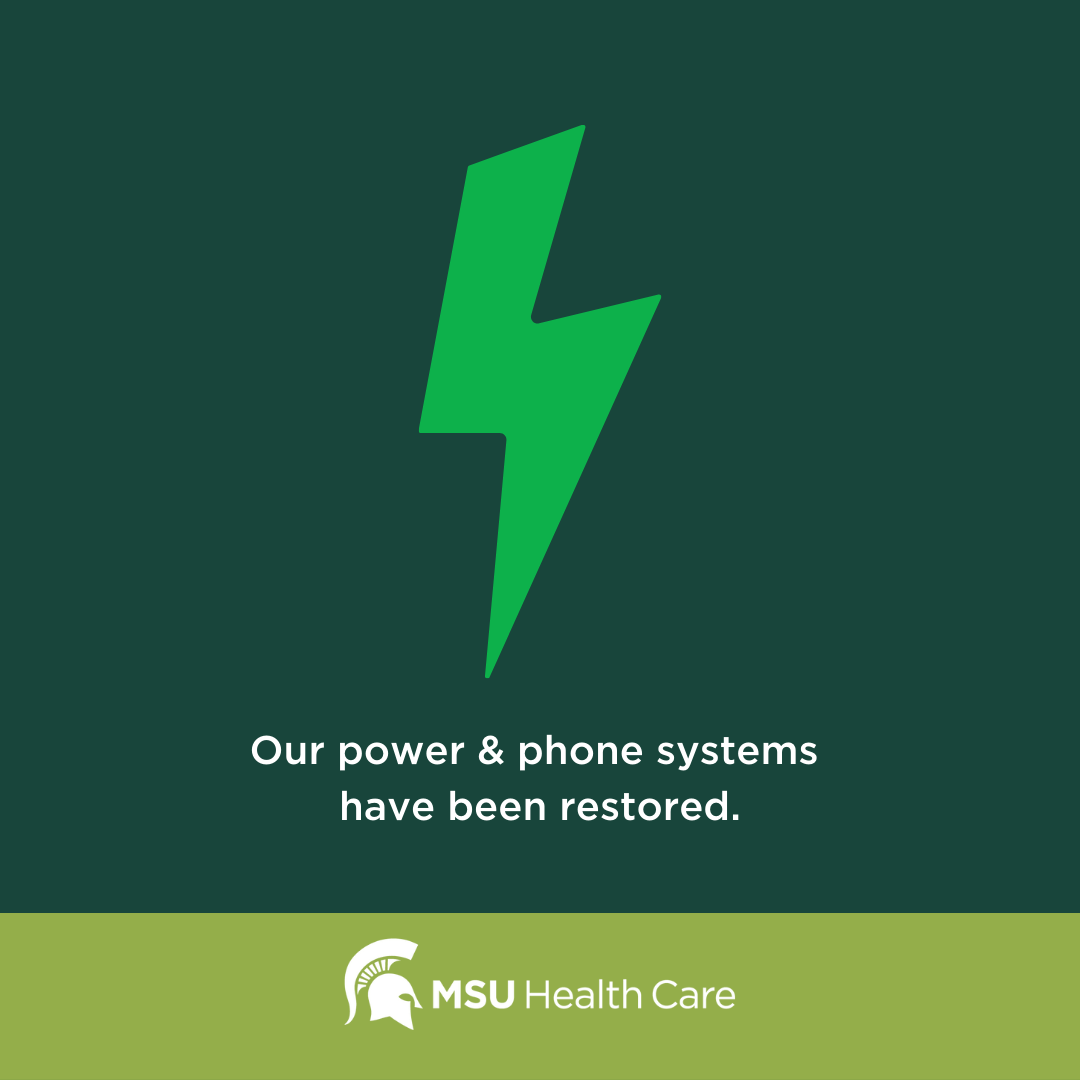 UPDATED DECEMBER 13, 2021 at 8:30pm:
Power has been restored and services will resume Tuesday, December 14, 2021 for the clinics and MSU Health Care Pharmacy at 4660 S. Hagadorn Rd.
Patients, staff and providers are advised to allow extra travel time to allow for any remaining traffic delays.
ORIGINALLY PUBLISHED DECEMBER 12, 2021 at 5:30pm:
Some MSU Health Care services will be unavailable on Monday, Dec. 13, 2021 due to the power outage on S. Hagadorn Road. Clinics located at 4660 S. Hagadorn will be closed. Patients, staff and providers are asked to refrain from arriving on site.
MSU Health Care Pharmacy services will be restricted to pick-up and delivery of prescriptions that have already been filled. Hours for Monday will be 7:30 a.m. to 5 p.m. No new prescriptions will be filled. Walk-in vaccinations and curb-side service will not be available. Patients are asked to limit phone calls to urgent prescription needs only. Please check pharmacy.msu.edu for more details.
The service interruption does not affect MSU Health Care services at 4650 S. Hagadorn Rd (internal Medicine, Cardiology, Endocrinology, Infectious Disease and Occupational Medicine), the Clinical Center or Imaging Services on Service Road and office locations in the community.
Clinics and Services Impacted
At 4660 South Hagadorn
Osteopathic Manipulative Medicine
Pediatric Specialty Clinics

Pharmacy (services limited to pick-up and emergent medications only)
Physical Medicine and Rehabilitation
Physical and Occupational Therapy