11116212
MSU Psychiatry
The MSU Health Care Psychiatry Clinic treats children, adolescents and adults of all ages.
Our faculty and residents are from the College of Human Medicine and the College of Osteopathic Medicine. As a teaching institution, patient care may be provided by a resident physician or faculty physician. Residents provide treatment under the supervision and direction of a board-certified faculty psychiatrist.  After an initial diagnostic assessment, care is initiated using the latest and most effective therapies available.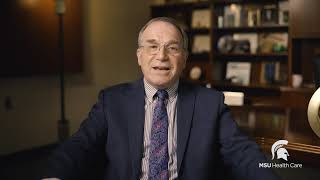 How to ease into socializing again
In this video, psychiatrist Jed Magen, DO, discusses tips to maintain mental health while easing into socializing during this back to normal phase of the pandemic. View now
Services

Psychiatric assessment and medication management for all age groups
Psychological assessment and customized treatment planning
Individual, family and couple's psychotherapy
Psychological testing

Special Areas of Expertise

Child and adolescent psychiatry
Neuropsychology
Eating disorders
Medication management
Individual, families, and couples counseling
Sports psychiatry
Geriatric psychiatry
Accredited Autism Evaluation Clinic by BCBS and BCN of Michigan
Hours
Monday: 8:00 a.m. - 5:00 p.m.
Tuesday: 8:00 a.m. - 5:00 p.m.
Wednesday: 8:00 a.m. - 5:00 p.m.
Thursday: 8:00 a.m. - 5:00 p.m.
Friday: 8:00 a.m. - 5:00 p.m.
Saturday: Closed
Sunday: Closed
Location
Phone Numbers
Providers