11116222
Physical & Occupational Therapy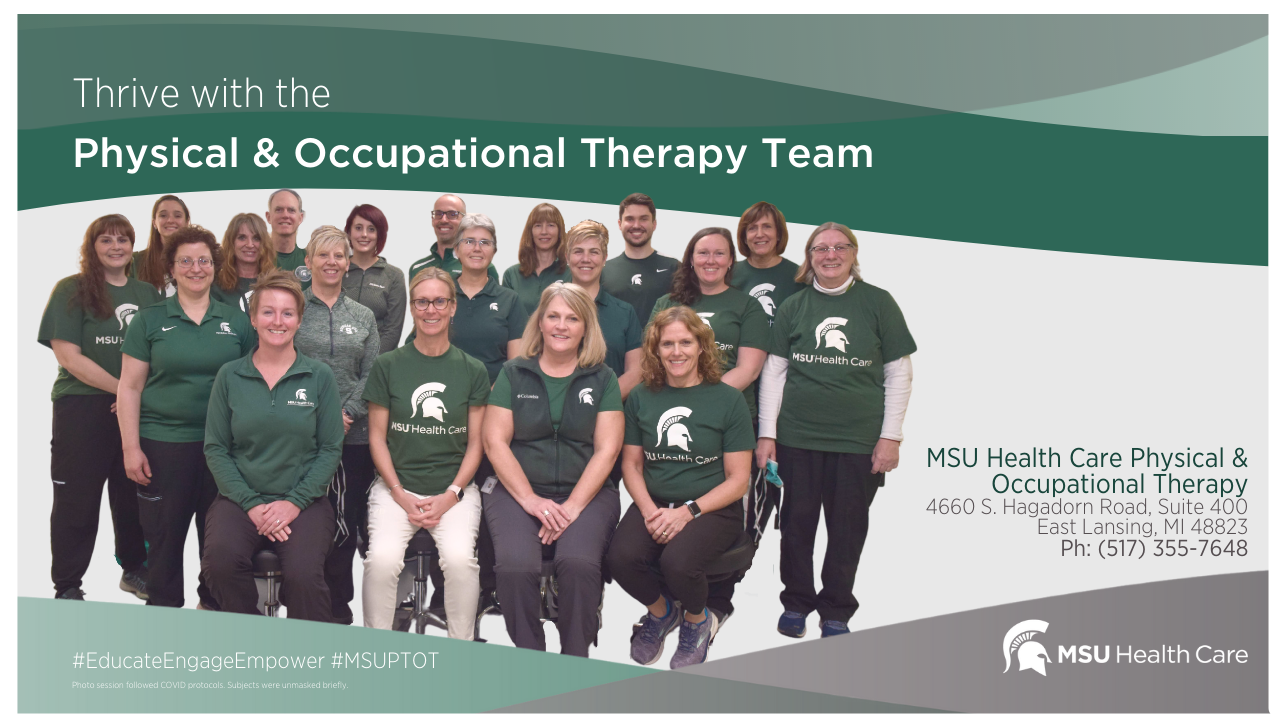 MSU Health Care Physical & Occupational Therapy is a high-energy, dynamic clinic that includes physical therapy, occupational therapy, and Lymphedema Services.
We provide our patients with an open, upbeat environment offering personalized care for a variety of diagnoses treating the spectrum of ages. We promote rehabilitation through one to one treatment sessions using specialized plans of care, person specific education, and instruction in home exercise methods for continued recovery. We offer sport specific workouts, and one-on-one sessions to continue your progress to reach your goals. Additionally, we offer convenient hours and extended days. In collaboration with MSU Sports Medicine, we can enhance an athlete's performance and get you back in the game!
We believe Rehabilitation is not just about surviving, but THRIVING!
EDUCATE*ENGAGE*EMPOWER


Services

Attention Training To Enhance Neurocognitive Development (ATTEND) Program

Other Health & Wellness Services:

One-On-One Core Stability and Stretching

Improve your core and stretching routine by working with an experienced health care professional to modify and identify specific exercises for you and your fitness goals.

Call 517.355.7648 for pricing and schedule.

Blood Flow Restriction Therapy

With the use of a personalized tourniquet system, Blood Flow Restriction (BFR) Therapy can be used with lower intensity exercises for people unable to perform high levels of exertion in adjunct to routine exercise (i.e. walking or resistance therapy). It can be used for strength training, endurance training and recovery.

Call 517.355.7648 for pricing and schedule. 

Lymphedema Manual lymph drainage & bandaging review

Review the techniques that improved your measurements one-on-one with your Certified Lymphedema Therapist while you are free from recurrence or exacerbation.

Call 517.355.7648 for pricing and schedule.

Massage

Relax with a massage to help refresh and invigorate your training.
Traditional Soft Tissue Massage (in development)
Instrument-Aided Soft Tissue Massage
Using the Graston technique, a trained professional will use instruments to better identify and treat soft tissue issues.

 

Call 517.355.7648 for pricing and schedule. 

alterG treadmill training

This specialized treadmill unloads the body and allows you to increase your training volume while reducing the impact on your joints.  Run like you are flying through space on this NASA inspired treadmill.

Cost $15 per 30 minute session; Punch card for 10 sessions $100. Frequent users will need to purchase shorts from manufacturer for use.

Patient care comes first, so scheduled times may vary by 15' if in use by patient

Call 517.884.6133 to schedule.

*free 10 minute trial offered, call Spartan Performance to schedule. No need to purchase shorts for free trial*
Phone Numbers
Phone: (517) 355-7648

Fax: (517) 432-1319
Clinic Hours
| | | |
| --- | --- | --- |
| Monday: | 6:00am - 7:00pm | |
| Tuesday: | 6:00am - 7:00pm | |
| Wednesday: | 6:00am - 7:00pm | |
| Thursday: | 6:00am - 7:00pm | |
| Friday: | 6:00am - 5:30pm | |
| Saturday: | Closed | |
| Sunday: | Closed | |